At the Cone Exchange, we work with a number of different charities and groups in our local communities. We've been working in partnership with some of these charities for years, and some much more recently, thanks Covid-19. This 'Who We Work With' mini-series is to help you learn a little bit about who we help and what they do, even if that just means spreading the word a little bit further.
This week we're focusing on Resurrected Bites, a food redistribution charity who work in the Harrogate and Leeds areas.
Resurrected Bites redistribute and repurpose food from shops and restaurants to hotels, with the sole aim of wanting to ensure that no good quality, in-date food goes to waste. With the help of organisations such as FareShare, Neighbourly and Harrogate Waste Not Want Not, Resurrected Bites 'intercept' quality ingredients that are destined for the bin, and their chefs then make them in to tasty and nutritious meals.
This food is then served at their cafes in Harrogate and Leeds, where they run a pay as you feel service, as well as a pay as you feel food and flower stall. This means that, as well as no good food going to waste, local families have access to hot and affordable meals.
Unfortunately, the cafes are currently close due to Covid-19 restrictions. However, in their place, the teams at Resurrected Bites offer free and weekly home deliveries to anybody in need.
Where does the Cone Exchange come in?
Bettys & Taylors have worked with Resurrected Bites for a few years, meaning the Cone Exchange has always had a connection with the charity. However, thanks to Covid-19 and their new delivery service, this relationship has developed over the past year, as their scheme allowed us to be more readily involved.
"Resurrected Bites is a really amazing and inspirational charity who do fantastic work. We're so happy that we're able to help families in our local areas, and are able to continue to do so throughout the Covid-19 crisis", says Sarah Wells, Community Manager at Bettys & Taylors.
Michelle Hayes, Director of Resurrected Bites, says: "We are so grateful to the Cone Exchange for their support through the pandemic. The Cone Exchange provided Resurrected Bites with lovely craft kits in the summer and at Christmas time. We were able to offer these to the families we support with food so that they could keep their children occupied during this challenging time. They have also provided us with canvas bags for us to pack the food in."
"We're really grateful to Bettys & Taylors, not only for providing us with funding to enable us to run this service, because we do it for free, but also they've provided us with amazing caes and loads of tea which have really blessed the socks off our customers." Michelle Hayes, Director of Resurrected Bites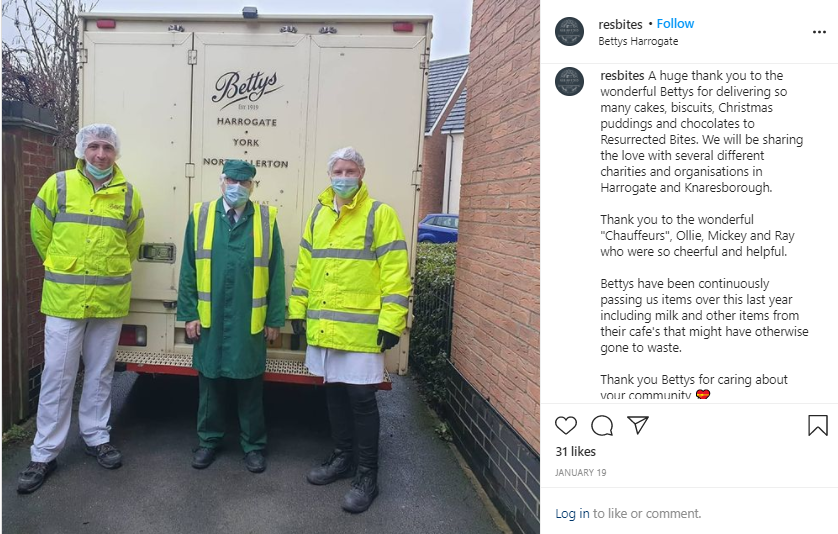 If you'd like to hear Michelle talk more about the work that we've done with Resurrected Bites, then you can watch the Bettys & Taylors 2020 Community video here.
You can also visit the Resurrected Bites website here to find out more about them, and how you could get involved.